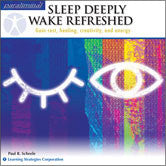 Sleep Deeply/Wake Refreshed
Available in digital mp3 format. Access to your Sleep Deeply/Wake Refreshed paraliminal mp3 will be emailed to you in 2-3 business days from Learning Strategies Corporation, the creator of the paraliminals.
Gain rest, healing, creativity, and energy
There's too much stress in your life, and you don't get enough sound, restorative sleep. Am I right?
Sleep Deeply/Wake Refreshed will help you fall asleep easily, sleep soundly, reconnect with the source of tremendous healing, balance, and well-being, and then awake refreshed and energized, ready for your new day.
It's better than getting a new pillow and mattress—and A LOT cheaper too!
This paraliminal comes with two sessions.
One session, "Sleep Deeply," helps you easily and pleasantly fall asleep. This paraliminal session helps you program your mind and body to benefit from deep, healing sleep and the rich resources of your dreams.
The other session, "Wake Refreshed," helps you awake gently and purposefully so that you remain connected to your rich internal resources you accessed while sleeping.
Get Sleep Deeply/Wake Refreshed and begin taking full advantage of the power of a good night's sleep!
The vast amounts of energy you expend each day can be renewed during sleep. Your dreams help your body, brain, and mind integrate the experiences of your day, organizing those that serve you and releasing those that do not.
The "Sleep Deeply" session will help you eliminate inner conflict about sleep. For example, we like to sleep and yet we often sacrifice sleep believing the additional waking hours will make us more productive. Then we worry about not getting enough sleep, which can program the mind for negative effects.
This paraliminal session removes conflict by providing a positive mindset of thoughts and feelings that ensure you receive the highest possible value from your sleep. It helps you set the right conditions for sleep.
The "Sleep Deeply" session will help you:
Let go of the day and its challenges.
Enjoy more success tomorrow.
Program your dreaming mind to support your wakeful endeavors.
Quickly and easily fall asleep.
Sleep restfully.
Allow deep healing and restoration of your body.
Transform the experiences and learnings from your day into long-term memories.
Connect with your passions and the creative possibilities of your brilliance.
Restore your inner rhythms to perfect working order, balancing your physical, emotional, mental, and spiritual existence.
The "Wake Refreshed" session will help you:
Awaken feeling well-rested and ready for the day.
Draw on renewed physical, emotional, and mental energy throughout your day.
Connect to the central purpose of your life.
Tap the deep intuitive insights from dreamtime to creatively solve problems.
Build self-trust and confidence.
Anticipate new adventures and learnings to fuel your passions.
Create greater abundance and success in your life.
Use your energy wisely each day to have abundant reserves.
If you desire to sleep soundly—all through the night, and wake-up ready for your day, order the Sleep Deeply/Wake Refreshed paraliminal today.
---
---
More from this collection