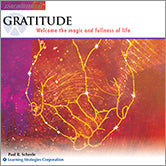 Gratitude
Available in digital mp3 format. Access to your Gratitude paraliminal mp3 will be emailed to you in 2-3 business days from Learning Strategies Corporation, the creator of the paraliminals.
Welcome the magic and fullness of life
Using it helps you become truly grateful for everything in your life. Your health, family, friends, home, work, finances, books, movies, transportation, clothing…
And it helps you activate a power greater than you might realize.
When gratitude becomes a way of being, gratitude is the most favorable environment for manifestation.
It is a powerful force to create whatever you want to be in your life from positive emotions… to perfect health… to loving relationship… to luxury goods.
When you are failing to manifest your desires, it is generally because there's little genuine belief behind them. Instead there's a natural tendency to focus on the lack of the thing you want, and this condition of lack is the antithesis of gratitude.
When you live with gratitude in your heart, you constantly affirm all that is right and desirable with your life. Focus on what you have, and you'll get more of what you want.
What can I expect from this paraliminal?
Listening to Gratitude predisposes you to greater belief that you already have or already are that which you seek. Creation becomes stronger, more impactful, and more enduring.
Gratitude is a magic potion of life.
Listening to the Gratitude Paraliminal will, most assuredly, change your life.
Radiate loving-kindness toward yourself and others in new and surprising ways.
Align with high-intensity emotions—happiness, joy, peace, contentment, and thankfulness—to turbocharge your intentions.
Use your breath to balance your body, mind, and emotions.
Fully open your heart to the gift of forgiveness for self-healing—physically, emotionally, and spiritually.
Make gratitude a normal response to everything in your life.
Appreciate how the simple things can be a source of strength and vitality.
Connect wholeheartedly with everyone you encounter.
---
---
More from this collection