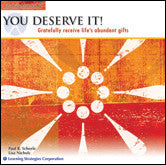 You Deserve It!
Available in digital mp3 format. Access to your You Deserve It! paraliminal mp3 will be emailed to you in 2-3 business days.
Gratefully receive life's abundant gifts
If you think -- even for a moment -- even in the deepest reserves of your mind -- that you shouldn't have a great and excellent life, you are attracting more doubt and more lack and more of what you don't want. That's the Law of Attraction -- working the wrong way.
You can be told over and over that "You deserve the best," but unless you believe it with every cell in your body, you are generating resistance. You are lowering your energy. You are making it difficult to attract what you say you want.
And no one knows this more than Lisa Nichols, who has personally helped more than 75,000 teens deal with alcohol, drugs, and sex. She knows how to get teens to believe they deserve to experience their potential, to name their dreams, and to claim them.
Lisa worked with Paul Scheele to create this awesome paraliminal so you can do the same.
Lisa is a best-selling author and one of the stars of international DVD phenomenon The Secret. You may have seen her on Oprah!, Larry King Live, and many other television shows, but her real claim to fame is as founder of Motivating the Teen Spirit, LLC, the most comprehensive empowerment skills program available today for teens.
Lisa is creator of several audio programs including Ladies Can We Talk and Ready for the Real Truth as well as the co-author of the best-selling Chicken Soup for the African American Soul® series. She is perhaps one of the most inspiring and motivating persons on this planet today.
Lisa's new Paraliminal is an absolute must-have. You'll know it as soon as you hear her powerful, yet nurturing voice, and you will find a shift in your life happening right away after listening to this paraliminal.
Own your past, release it, and free your power to create your life anew.
Replace fear and trepidation with self-confidence and strength.
Respond to challenges and opportunities with mindful awareness.
Receive the highest levels of love, prosperity, health, and happiness.
Give yourself permission to stand in the greatness of who you are and all that you are destined to be -- listen to You Deserve It!
---
---
More from this collection