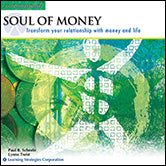 Soul of Money
Available in digital mp3 format. Access to your Soul of Money paraliminal mp3 will be emailed to you in 2-3 business days from Learning Strategies Corporation, the creator of the paraliminals.
Release unconscious beliefs of scarcity to intentionally generate prosperity
Money is an energy that flows through life, a tool for fulfilling your wants and needs. Yet a perceived sense of lack can leave you continually wanting more.
The Soul of Money Paraliminal helps you let go of this chase and free oceans of energy to nourish abundance. This undeniable power of sufficiency helps you intentionally generate the prosperity you want.
This session helps you realize you are enough, you are loved, and you are safe. It works on three key aspects:
Worthiness. As you value your gifts and the immense worth of your presence in the world, you create greater value for yourself and others.

 

What you appreciate, appreciates.
Purpose. Your purposeful use of money manifests your soul's true calling—that's where the

 

Soul of Money

 

title comes from. Money is like water infused with your soul's energy, and it is meant to be in flow. Like fresh, clean water, every drop is valuable and worth your attention.
Prosperity. You feel most prosperous when you feel you are in complete integrity with your money. While having enough money is important in caring for your needs, you don't need to sell your soul for it or separate from the things you care about, including the relationships in your life and your deepest passions. It enhances all of that. By intentionally focusing on the good you can create through collaboration and service, everything you could ever want will come to you.
The Soul of Money Paraliminal, created by Paul Scheele and Lynne Twist, is based on the teachings in Lynne bestselling book by the same name. They recommend listening daily for the first week and periodically for support as you realign your relationship with money and transform every aspect of your life—financial, physical, emotional, and spiritual.
It is the perfect Paraliminal session whenever you are stressed about paying your bills, buying necessities, or taking care of others. If you are constantly worried about money and find yourself chasing money, it slips through your fingers. Listening helps you immediately transform the way you perceive money by simply shifting your mood around it.
The Soul of Money Paraliminal helps you:
Redefine your relationship with money so money doesn't define you.
Free yourself from the "more is better" mentality.
Embrace the power of sufficiency to nourish and expand the abundance you already have.
Build a relationship with money that aligns with your core values and purpose.
Realize you are more than enough to make a positive difference in the lives of others.
Release the illusion of scarcity so you can fully enjoy everything you have.
Experience how gratitude and appreciation can shift every aspect of your life.
Live with greater congruency, integrity, and joy.
Spend the money you earn with conscious awareness of the good it creates and the blessings it carries.
Build a positive legacy through your work that serves generations to come.
---
---
More from this collection