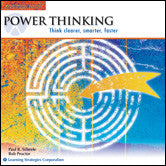 Power Thinking
Available in digital mp3 format. Access to your Power Thinking paraliminal mp3 will be emailed to you in 2-3 business days from Learning Strategies Corporation, the creator of the paraliminals.
Think clearer, smarter, faster
Habitual ways of thinking and feeling form the foundation for how you act, express yourself, relate to others, and achieve results.
The power of your mind is staggering. And its tools of perception, memory, focus, intuition, imagination, emotion, and reason can help you create a magnificent life… or one of disappointments. You choose.
Master those tools and the possibilities are limitless.
Power Thinking helps you transform entrenched and ineffective habits of thinking to move beyond current circumstances and accelerate success and abundance.
This paraliminal comes from the fascinating minds of Paul Scheele and the legendary life coach, transformational leader, best-selling author, and the most colorful teacher of The Secret, Bob Proctor.
Bob's entire life focus is on helping people create lush lives of prosperity, rewarding relationships, and spiritual awareness through the transference of information and experience. And what an experience he delivers to you with Power Thinking!
If you could think clearer, smarter, and faster how would your life be different?
This paraliminal taps into the workshop of your pure imagination where you engage tools of thinking that help you express your talents and creativity in extraordinary ways.
As you listen you will:
Vaporize old patterns and uncertainty.
Elicit the appropriate thoughts, responses, and actions to achieve your intention.
Adapt your focus to new situations and promote new modes of thinking.
Develop your perception, thinking, and decision-making abilities.
Adopt ideal mental and emotional states.
Confidently apply the laws of the universe in artful and elegant ways.
When you trust in universal laws and are attuned to the vast knowledge that surrounds you, you concentrate your power to attract results. Thinking clearer, smarter, and faster accelerates your success and allows you to bring new and better things into your life.
---
---
More from this collection