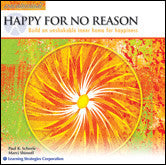 Happy for No Reason
Available in digital mp3 format. Access to your Happy for No Reason paraliminal mp3 will be emailed to you in 2-3 business days from Learning Strategies Corporation, the creator of the paraliminals.
Build an unshakable inner home for happiness with Happy for No Reason
Happiness! The universal human desire. The ultimate motive for everything we do in life. The one thing most of us do not have enough of. And boy does it make us feel good.
Money can definitely buy happiness, but that's not the kind of happiness we're talking about. We don't want happiness because we drive a fancy car, have a prestigious title, or expensive clothes.
The happiness we really want -- the best happiness -- self-generates for no reason at all. It just bubbles up from within. Automatically. With no effort. All of the time. No matter what's going on in our lives.
Marci Shimoff, author of the book Happy for No Reason, created the "Happy for No Reason" paraliminal with Paul Scheele so you have more happiness in your right now. You don't have to wait until you fall in love, get a new home, or make a million dollars. Happiness is just moments away with this powerful paraliminal.
You might be thinking, "This paraliminal sounds namby-pamby Pollyannaish," but if you saw the scientific research on happiness, you'd whistle another tune.
Experts say that when you can find joy and happiness in every moment of every day, it is so much easier to move beyond any situation of lack or poverty. That's because happiness helps raise your physical, emotional, and mental energy, which makes it easier to attract everything else of a higher energy!
Happy for No Reason is a perpetual happiness generator that will spontaneously bring you greater happiness in every area of your life without you having to do anything more than pushing the play button.
Paul Scheele teamed up with best-selling author and star of the DVD phenomenon The Secret, Marci Shimoff. She has been studying happiness for the past 30 years. Her inspiring, dynamic, and humorous approach appeals to audiences throughout the world as she shares powerful techniques to establish deep and authentic happiness and well-being.
Marci is a founding member of the Transformational Leadership Council and #1 New York Times best-selling author. Her books, Chicken Soup for the Woman's Soul, Chicken Soup for the Mother's Soul, and four other best-selling titles in the Chicken Soup for the Soul series, have met with stunning success, having sold 13 million copies in 33 languages worldwide.
New York publisher Simon & Schuster is publishing her new book, also called Happy for No Reason, coming out in January. "Her material is breakthrough. It is the best I've seen," said the publisher, who believes it will be a run-away bestseller.
The essence of Marci's breakthrough book is woven through this special paraliminal that might just become your most favorite of all time. It truly is a fresh and innovative approach for discovering your true natural state of peace and joy.
Move past stuck emotions that keep you from enjoying true happiness.
Develop habits that support sustained positive experiences.
Learn to forgive others, show compassion, and cultivate gratitude.
Lean into thoughts that support happiness instead of those that make you miserable, or at the least ho-hum.
As you listen you will learn to recognize your body's signals that support your well-being so you build a strong inner home for happiness that nurtures every area of your life.
---
---
More from this collection