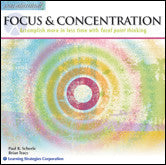 Focus & Concentration
Available in digital mp3 format. Access to your Focus & Concentration paraliminal mp3 will be emailed to you in 2-3 business days from Learning Strategies Corporation, the creator of the paraliminals.
Accomplish more in less time with focal point thinking
Get tangible results in any area of your life -- within 24 hours!
Simplify your life. Double your productivity. Achieve all your goals. Direct your energies to accomplish those tasks that will pay you the greatest reward for your efforts.
Paul Scheele teamed up with Brian Tracy to help you gain control of your time and your life. Brian is probably the most well-known sales trainer and expert on entrepreneurship in the world, and what he knows can change anyone's life.
Brian addresses more than 450,000 people each year throughout the world on leadership, sales, managerial effectiveness, and business strategy. He says the single most important thing YOU can do everyday is stay focused on your top goals. Brian calls this Focal Point Thinking. It's the strategy that he and Paul will help wire into your brain with this paraliminal
"Just as the sun's rays, focused through a magnifying glass, can concentrate intense heat and fire, your intelligence and abilities, focused and concentrated on a few key activities, can enable you to accomplish much more in far less time... helping you to perform at extraordinary levels in any endeavor."
Brian has helped thousands of people double their incomes, reduce their working hours, get control of their time, and dramatically improve their relationships with family, friends, and others. He is the best-selling author of Time Power, Maximum Achievement, TurboStrategy, The 100 Absolutely Unbreakable Laws of Business Success, and Focal Point, which provides the basis for this paraliminal session.
Listen to this paraliminal and it will be easier than ever to keep your focus and concentration on what is important to you. It will help you focus your thoughts, feelings, and actions on what is absolutely consistent with achieving success and enjoying the life you choose.
When Brian teaches this strategy to people, a key step is that they continually ask themselves, "What should I be doing right now that will generate the most success for me?"
This singled-minded strategy can work for anyone. Adopt it and keep it up and you will see great progress in your goals. But guess what? With this new paraliminal you won't have to incessantly ask yourself that question. Your brain will automatically hone in on what is important for you.
That is a huge benefit. You'll also begin to easily:
Set clear priorities among the competing demands for your time.
Believe in yourself and your purpose.
Expand your capacity for success.
Communicate your goals with clarity and effectiveness.
Open yourself to creative insights.
Employ focal point thinking -- the factor most greatly impacting your life -- and you'll gain control of your time and your life.
---
---
More from this collection